Next:
HTML Media - Pointers
Up:
Video Browsing, Recording and
Previous:
SGI Movie Format
Figure 7: Apple Quicktime movie browsing and playback; note movieplayer pop up window displaying a quicktime movie, and the wwweasel file selection box for browsing Quicktime files.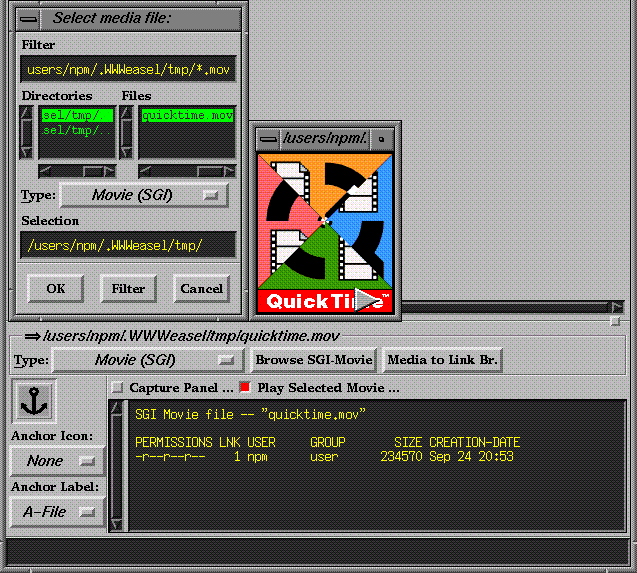 Because the SGI ``movieplayer'' application can play back Apple Quicktime movies and animations (SGI licensed the technology from Apple), the SGI Movie Media Panel is also used for playing back Quicktime format movies. Although this format is not considered a ``defacto'' standard medium for use on the Web, it is still relatively widely used on the internet, perhaps due to the market penetration of video-equipped apple computers. In addition to ``play'' functionality, when an Apple Quicktime movie file is browsed, information on the size, ownership and last modification time is presented.
Figure 7 shows the SGI movie panel with an Apple quicktime file as the current selection. The ``play'' toggle is depressed, causing the ``movieplayer'' window to pop up displaying the selected quicktime movie.
WWWeasel does not have a direct way of recording Quicktime movies. However, SGI provides an application called ``movieconvert'' which allows one to take a previously created series of images and turn them into a Quicktime Animation or Quicktime Movie. This process, however, is somewhat error prone and tedious. Whether better tools for doing this become available or get implemented directly (as MPEG recording is) in future versions of WWWeasel will depend on the success of Quicktime over other non-proprietary formats, and the success of standards organizations leading the way towards media format cooperation. We believe the current combination of SGI and Quicktime movie support is sufficient for adding high quality video clips with synchronized audio to a WWWeasel-based engineers notebook.
---



Next:
HTML Media - Pointers
Up:
Video Browsing, Recording and
Previous:
SGI Movie Format
Niels P. Mayer
11/19/1997